SCAN Barcode or RFID
We make barcoding
work for you.
Rugged Mobile Barcode Guns
Fixed Mounted Door, Forklift, and Ceiling Readers
Android Smartphones
Apple Smartphones
Out of the box
Product Labels, Shipping Labels, Order Forms
Barcoding software without the usual limitations.
Print Labels
Our software includes a barcode designer package. Modify the size, shape, and style of any label.
Let's put YOUR LOGO on your barcodes. We can even make them for you!
Scan Labels
You can scan barcodes with your Android or Apple smartphone.
For extreme environments, we support rugged mobile barcode guns.
Integration
You do not have to re-label.
Build a cross reference that allows scanning of customer, supplier, or other industry standard barcodes. If items already have barcodes, let's use them.
QR Codes
Want to print, label, and scan QR codes?
No problem. Our label designer supports 2D barcodes like QR code and Datamatrix.
Bins, Racks
Print labels for bins, racks, work centers, quarantine, or damaged areas.
Know the where and the status of your inventory.
RFID
Choose passive or active readers. Track movement with door, entrance, or exit areas with RFID door/ceiling readers.
Fast audits. Fast cycle counts. Point and scan with mobile RFID readers.
Preview and Print Labels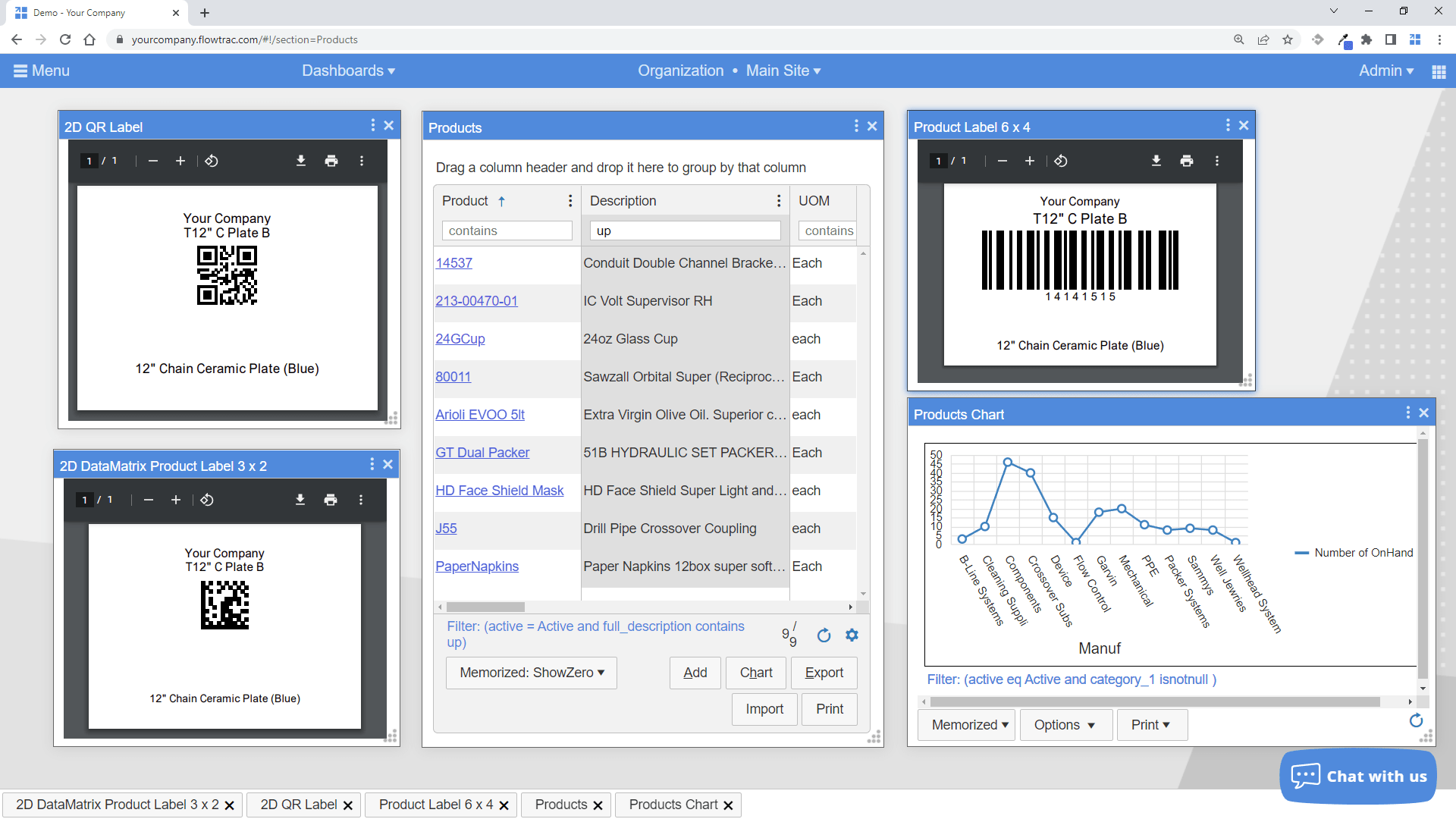 WHAT OUR CLIENTS SAY
Testimonials
After months of working with Flowtrac to build our registration system for The Salvation Army's Angel Tree Program, we are extremely pleased with the final results. The system is user friendly, all-inclusive of everything we need, and leaps and bounds above our previous system. The program saved us so much time and energy and our stress levels were significantly decreased during Angel Tree season.
KAri
Operations – inventory

I am extremely pleased with Flowtrac. What I found the most valuable is the user friendly capabilities of the software.
The team was exceptional in providing recommendations for the vision we had. They used their experience and expertise to help us create functionality that surpassed our expectations.
Kelly
Inventory manager

Let's Talk.
You may fill out the contact form, use our online chat, email, or call our office.
Office Hours – Mon-Fri 8:00am-5:00pm CDT
817 421 3311
info@flowtrac.com