INVENTORY MANAGEMENT SOFTWARE
Helping people
manage what's important.
We equip organizations with barcoding and inventory software to manage their inventory, assets, and work-in-process.
Made in USA
Clients are Priority ONE.
We have the privilege to serve small to large organizations across the world.

Track It. Scan It.
Fast. Accurate.
Still Excel tracking? Pen and Paper?
Flowtrac uses barcode guns, smartphones, or tablets to scan barcode information right into our cloud database. No importing, exporting, or hoping the spreadsheet does not get lost or damaged.
We also support RFID mobile, fixed mount, doorway, indoor, and outdoor readers. Collect data offline or online. Flowtrac stores data locally on the device when offline and then updates the cloud when back online.
In your location, out in the field, anywhere in between.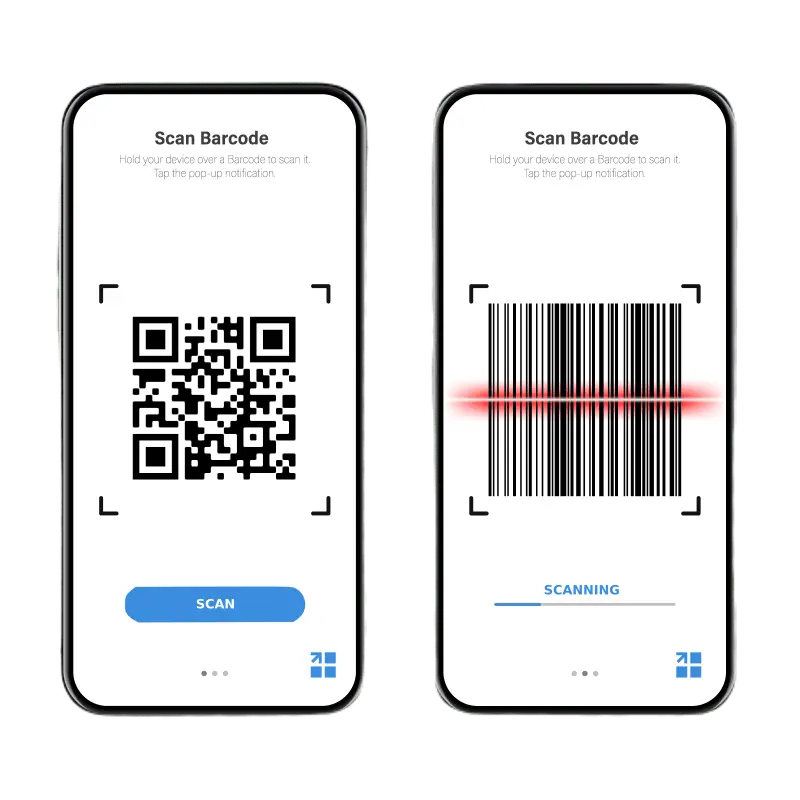 Manage the Movement.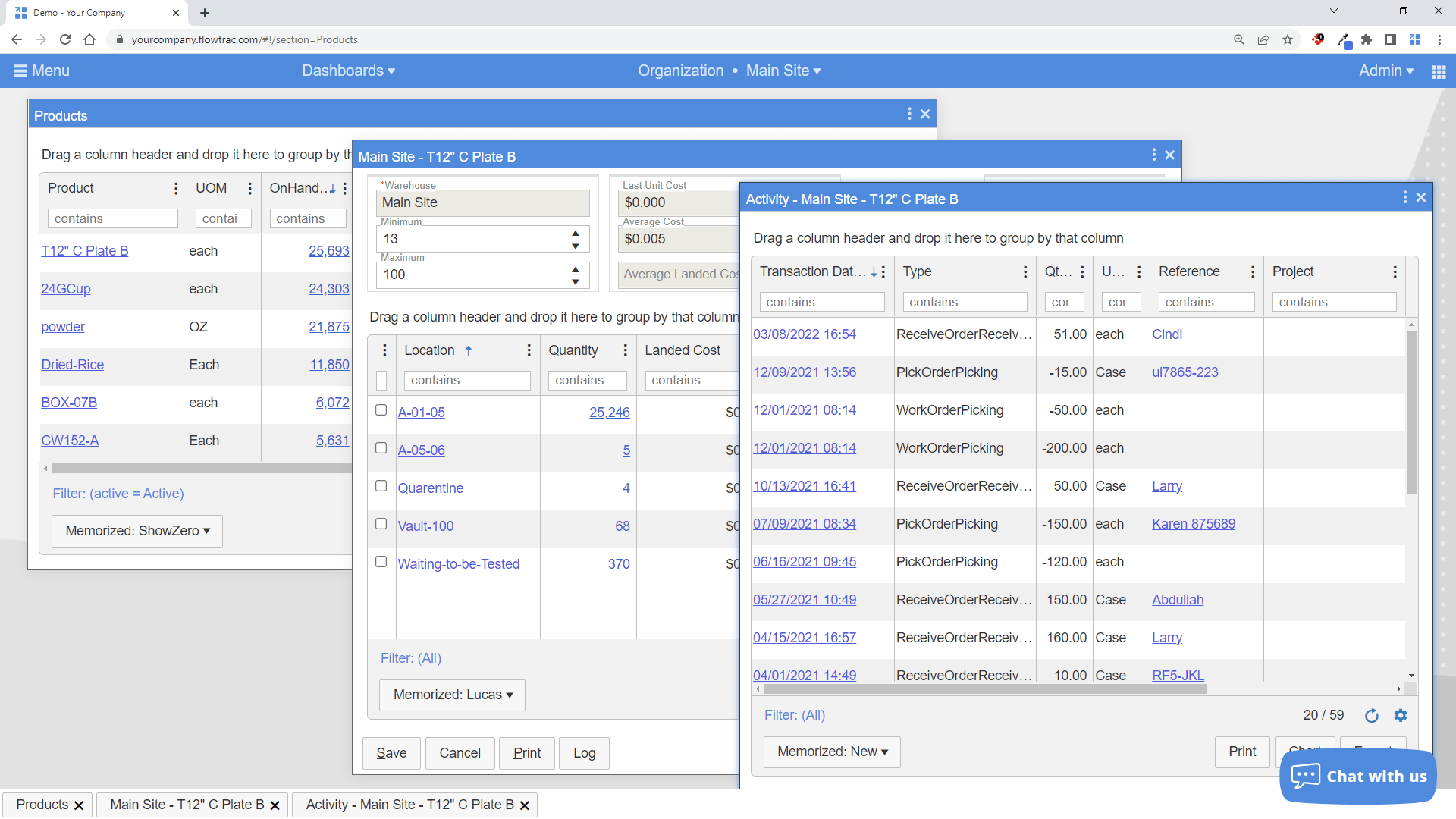 easy search
Wildcard search helps you find products easy and fast. You only need one character of any part of the product, description, or category name.
Drill Down
All information displayed offers single click links to drill down to another window with more detail of the item and again for more.
detail logs
All transactions are logged by date/time, user, and function. All the in/outs of your inventory are in data tables that are easy to search, export, or print.
Integrations, Translations
A robust API is baked into the core of the Flowtrac framework. This allows us to connect and integrate with most modern cloud-based systems.
A few of our more commonly requested integrations are shown in the image. We would enjoy learning about your current software and discuss how we can take our solution and integrate it seamlessly.
Integration is more than just a connection. The data to be pushed/pulled could require special mapping or functionality. While other software companies outsource their technical support, we have integration development teams in house.
Stop time consuming double entry.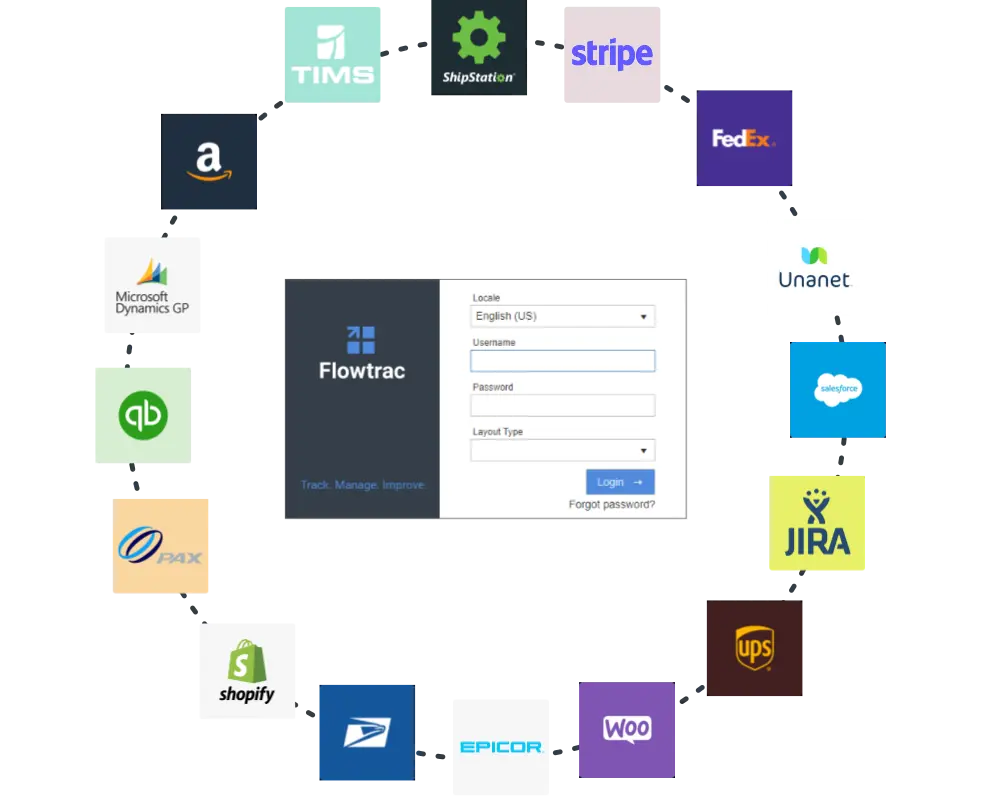 What our Clients say
Testimonials
Overall Flowtrac delivered everything it promised and a little more. The best thing this tool offered us was the ability for the users to search the database of 270,000 part numbers and return any part number with that specific sequence of numbers. It met our criteria and they were familiar with inventory management processes.
Paul S.
Project Lead Manufacturing, SIEMENS

From our first meeting with [Flowtrac] to our final interactions with the programmers and project manager helping us "go-live". They were patient & understanding of the technical challenges of our system and provided creative solutions to help resolve those challenges. They take customer service to higher standard.
NICOLE F.
Operations lead, SYnGENTA

What I like most is how easily and how quickly the information from Flowtrac is updated from the webpage to the scanner. There is almost no delay and that makes for optimal use of time and completion of tasks. Our previous software was not meeting the needs of our company as a whole.
Francisco T.
Procurement, INNOFLIGHT

This software is capable of being self taught, but the training is excellent. They know their product and can help with anything. Customer Service is like no other! If they don't have it, they can create it. Implementation was as easy as it could be without having anyone come do it for us.
TYler
Warehouse Manager, Vision SOlar

We are honored to share our success with others.

Together.
we can end human trafficking
one life at a time