Let's Get Tracking.
Eliminate the Spreadsheets
Real Time Bar Code Scanning
Receive Fast and Accurate
Pick Fast and Accurate
Count Fast and Accurate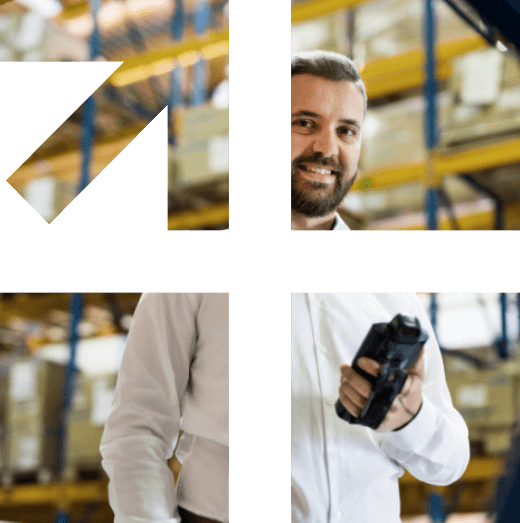 Scalability
Flowtrac's Inventory package can track a small parts area or manage a large warehouse. Whether you have receiving and shipping docks or just one shelf of products, we have the right solution.
As your business grows, it is important that you have a software partner that can grow with you. You can easily handle your product quantity movements as well as define bin locations in your warehouse(s). A warehouse can be a building, service truck, in-transit trailer, or conex container. Inventory transactions and levels can be controlled by user and even by warehouse or truck. You can restrict your users' access and views to one warehouse or a list of warehouses.
You can be confident that our Inventory package can handle your inventory needs now and into the future.
360 Degree View
Inventory quantities in your organization are most likely moving in three simple directions:
Products come in for some reason, some way. (increase quantity)
Products go out for some reason, some way. (decrease quantity)
Products move around for some reason, some way. (change location, warehouse)
Flowtrac's solution controls and improves your visibility of transactions by logging the date-time and user touches to all your data. We have integrated features in the inventory package to handle all types of transactions. Each feature can be used, modified, or removed by you to accomplish your goals. The following is a list of features that are included in every system. Each feature contains additional tools and options.
Sales – Pick Order Management
Purchase – Receive Order Management
Transfer From Bin to Bin
Transfer Warehouse to Warehouse
Proof of Delivery
Container Packaging
Product Conversion
Bill of Material
Product Orders
Work in Process
Some feature details are listed below. The Table of Contents on the right side bar gives you a quick click and drill down to any specific section.
Quantity, Lot, Serial
Other software packages may only track your total quantity on hand. Flowtrac tracks your items one of three possible ways.
Quantity
Lot & Quantity
Serialized
You simply select your preferred method of tracking when you create your product. If LOT or SERIAL is selected, we enforce strong business rules for the handling of those products throughout the entire Flowtrac system. LOT and SERIAL transactions give you complete audit trails of who got what, datetime, and the specific lot or serialized item. Inventory On Hand for LOT and SERIAL items offer quick drill down to expose the specific detailed information.
Minimum – Maximum
Good inventory control software should do just that… CONTROL. Flowtrac allows you to set up min and max quantities for each product you create. You can even have different min/max(s) for each warehouse that you have defined.
Sales and Pick Orders
The pick order feature is powerful and flexible. A pick order can simply be a means for picking and reducing inventory quantities or easily supporting full sales order functionality. You can also import orders from any other systems you have in place into the pick order table or pull orders real time through a system integration. Out of the box features include:
Retail, Sell, Cost Prices
Discount by Product or Category by Account
Discount by Quantity breaks.
Integrated Shipping Module to Freight Companies
Accounts Receivable (optional)
Integrated Credit Card Processing (optional)
Kitting and Packaging
The kitting feature allows you to define a kit template. For example, when a home entry door is received or picked, Flowtrac can account for 3 hinges, 9 screws, and 10 foot of weather stripping. You can define the kit item as D100 or DOOR and then add all the products and their quantities that are required. In a picking scenario, all the operator has to do is enter or scan the D100. Our software will automatically bring all the necessary additional items on to the order for picking. You will not have to worry about forgetting required kit items again. Receiving of kit items will also account for the new stock received of the kit items.
Packaging provides a way for you to combine or assemble many items into a package. For example you might build a package (pallet, skid, box) by picking several products and quantities into the package. Flowtrac generates a unique serial number (package id) to track that package and all of it's contents. A barcode label may then be printed for the number of that package. Now a simple scan can track the package through all the stages needed. (picking, receiving, counting, re-packaging).
User Definable Fields
Do you have unique fields of information required for a product, lot code, or serial number? No problem. Flowtrac's Flex Fields offer the ability for you to add additional fields of information that you would like to track on each product. Proper role security allows you to add flex fields to either product, lots, or serial numbers. These fields can be defined as text, number, date, combo-box, or a search field to another table. Additional options include required or not, color, visibility by user role, and enable/disable by user security role. All flex fields are also added to the search grids allowing for fast and easy searching by the field and reporting of the new field data.
Multi-Windows, Multi-Task
Trying to manage your business on old browser technology? It is hard to handle an active environment with many transactions with an old software system that limits you to only working a single page at a time. Stop trying to get through the day hitting the BACK or FORWARD arrows over and over to view the data you need quickly.
Flowtrac takes advantage of the latest technologies to give you multiple active windows of information on your browser page at the same time. You are a single click away from drilling down to more detailed information about your data . You can view multiple products, orders, transactions, etc. all at the same time, on a single view, to manage all required tasks. You never will touch that BACK or FORWARD button once you log in. No lost time waiting for pages to close and refresh.
Standard Product Information
Active or InActive
Track By (Quantity, Lot, Serial)
Product Code
Barcode Cross Reference
Long Description
Stock, NonStock, Owned
Account Owned by
Order, Build, Both
Expires Y/N
List Price
Sell Price
Cost
Weight
Cat
Category 1
SubCategory 1
Category 2
SubCategory 2
Unlimited Notes
DateTime-User Activity
Unit of Measures
Default Suppliers
Picked for Accounts
Interchanges
Bill of Materials
Bill of Processes
Default Storage Bins
Min-Max by Warehouse
Product Quick Copy